SUN HYDRAULICS (THAILAND) CO., LTD.
Full Description
---
SUN HYDRAULICS (THAILAND) CO.,LTD.
We are the authorized distributor for SUNRUN and Hydratron in Thailand.
SUNRUN is made in Taiwan. Product Ranges are Hydraulic Cylinders, Jacks, Pumps, Torque Wrench, Spreaders, Splitters, Bolt-Tensioners, Hoses, Gauges, Couplers.. etc.
BEGA/BETEX is made in Netherlands . Product ranges are Induction Heater( for bearings, gears…etc.),Pullers, Cylinders,Fitting Tools, Checking/ Alignment Tools, ..etc.
HYDRATRON Hydratron is made in Uk. Product ranges are high Pressure Equipment such as Booster, Test Rig, Hydrostatic Test unit.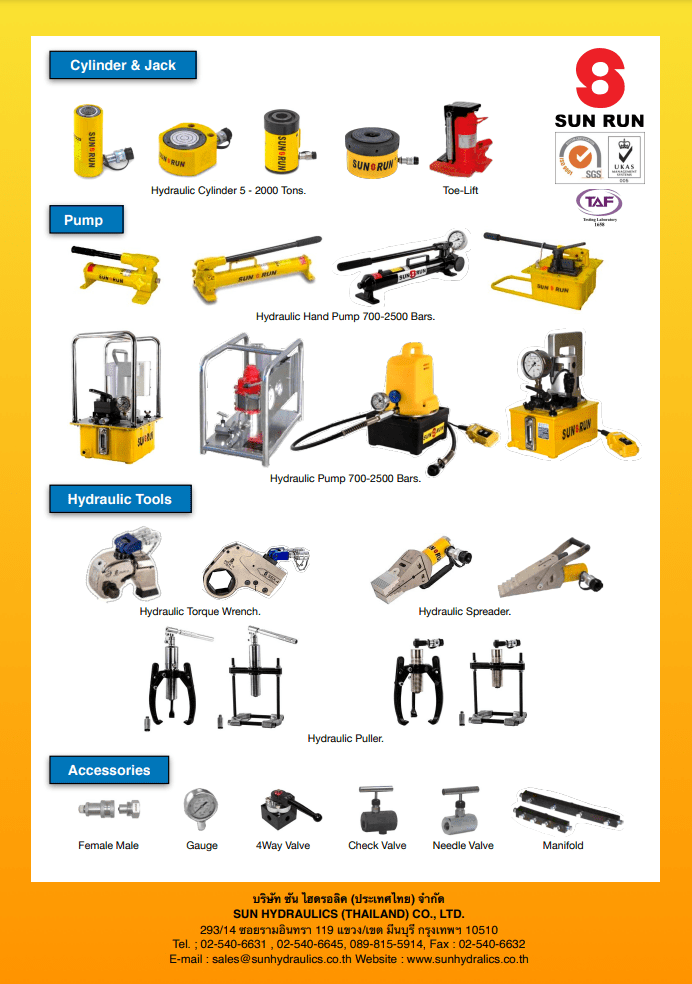 ---
---
ที่อยู่ (ภาษาไทย)
293/14 รามอินทรา 119 แขวงมีนบุรี เขตมีนบุรี กทม.
Address (English)
293/14 Ramintra 119, Minburi, Minburi, Bangkok
Tel.
0-2540-6031, 0-2540-6645, 08-9815-5914
Fax
0-2540-6632 sales@sunhydraulics.co.th